A Glimpse at the Kitchen of the Future
If there's one thing that's famously tough to predict, it has to be the styles of the future. We know that in some cases, certain looks are cyclical and others are timeless, but what about when it comes to the most important room of the house? How can we use the trends of the past and current times to predict what the kitchen of the future might look like?
Current trends are leading us to believe that 20 years from now the kitchen will be vastly different to what we have today, with other parts staying comfortably the same. What we use our kitchens for will change, their layout might change, and certainly, the appliances will receive an update, so what can we expect to see from the kitchen of the future?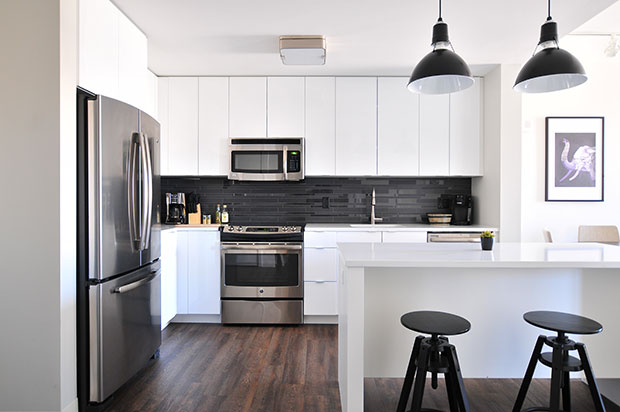 A Multifunctional Room
We are already seeing this trend starting to emerge, and it's one that puts even more importance on the kitchen than ever before. Kitchens in the future will act as so much more than a space for meal prep. They will still be the place to cook and create meals, but also an entertainment space for family and guests, somewhere to socialise over morning coffee, a spot for the kids to do their homework and be the central meeting point of the house.
Sustainability and Efficiency
With a huge focus of late on sustainability and waste management, there's no doubt that futuristic kitchens will play a significant role in reducing our impact on Planet Earth. There are modern inventions like tapware that can reduce the water consumption by 30%, waste systems for rubbish and recycling, and energy efficient lighting that will keep power costs down. If this is what we're already experiencing in 2018, it's almost a certainty that these will be standard in every kitchen within 20 years.
Open Spaces
Open plan living doesn't seem to be going anywhere soon, and we're all for it when it comes to the kitchen. Rather than closed-in kitchens with a whole lot of upper cabinets and doors, you can expect everything to be visible and laid out openly. The kitchens of the future won't be their own space anymore but act as a flowing part of the rest of the house.
Natural and Manufactured Materials
Benchtops get quite a bit of use in a kitchen, and there are manufacturers out there engineering the new materials made for the job. They will be easier to clean, cheaper to purchase, and more durable than ever, all while looking timelessly elegant. We can also expect to see a trend of sustainable materials like recycled wood and plastic, similar to the recently released IKEA Kungsbacka range.
Smarter Appliances and Lighting
As every room of the house gets a smart makeover, you can expect to see the kitchen getting one too. We will see more responsive lighting that changes moods for dining, entertaining, cooking, and socialising, all accessible from our handheld devices. There will be smart benchtops that absorb liquids and weigh food to make cooking easier. We might even be able to talk to our fridge and have them bring up recipes or create simple smoothies for us, provided they can do a good job of it.
Our kitchens are ever evolving, but there's one thing that will continue to be an integral part of them – electricity. To get expert advice from a team that knows everything there is to know about power in the kitchen, phone us today at Everest Electrical on 0410 229 139. We have qualified Level 2 Electricians who can help with the finer details when it comes to power, and are skilled enough to handle anything.