Level 2 Electrician Narabeen
Level 2 Authorised Service Provider
Servicing Ausgrid and Endeavour Energy Network Areas
Overhead aerial services, single and three phase
Residential switchboard upgrades, relocations and installations
Multiple tenancy switchboard installation, repair and relocation
Service protection device installation
Meter protection device installation
Smart Metering Installation
Temporary builders supplies
Underground to Overhead (UGOH) installations
Installation of underground pillars and pits
Upgrades of electrical supply up to 400AMPS
Barge fuse installation and repair
Rafter and Fascia bracket installation and repairs
Disconnection and reconnection of supply
Supply, install and rent of tiger tails (Endeavour Only)
Vegetation management around aerial cables
Mobile Crane services (18 tonne meter crane)
Street lighting installation and repairs
Underground service excavation works
Free Energy
Efficiency Report
Garden Lighting And Safety Inspection Opportunity
The residents of Narrabeen are blessed with an amazing amount of beauty in the nature within and around the area. The beach coastline is spectacular, but also the Narrabeen Lagoon State Park is on the doorstep, an urban retreat for everyone. Those who benefit in particular are water sport enthusiasts, bushwalkers, bird watchers, cyclists and joggers.
Another great local benefit for Narrabeen residents, is the electrical services offered by our professional team at Everest Electrical – we can take care of any concerns or problems you may have with electricity on your property.
Right now, as well, you can also receive our special offer of a free electrical safety inspection report outlining any current or potential electrical risks in your home.
The Hidden Potential of Garden Lighting

One aspect of lighting that often goes under the radar of home owners is that of garden and landscape lighting.
With technology advancing in areas such as LED and solar panelling, you have all that you need to make your garden lighting dreams become reality.
At Everest Electrical we take pride in the installation of the right quality equipment for your home and garden.
A new lighting style could make your next barbecue or outdoor dinner an even bigger success. Options includes:
• Moon Lighting – Placement of lights in trees giving the effect of moonlight.
• LED Rope – This can be placed around outdoor cooking areas or inside garden beds.
• Illuminating Standout Landscape Aspects – Water features etc. can become a focal point.
• Creating Shadows – Often a shadow effect from exterior lights can be just as interesting as the illuminated object and can look great.
• Dramatic Doorways – Alternative lighting effects in a doorway creates a dramatic aesthetic.
Brighten Up Your Next Garden Party
The time may be right to think outside the box and consider what lighting features could enhance the look of your backyard. If you have enquiries on the installation of any exterior lighting on your property don't hesitate to contact our Everest Electrical team.
For any domestic electrical issue that you may have, our fully licensed team at Everest Electricalis on hand to provide safe and effective solutions. Call us now on 0410 229 139.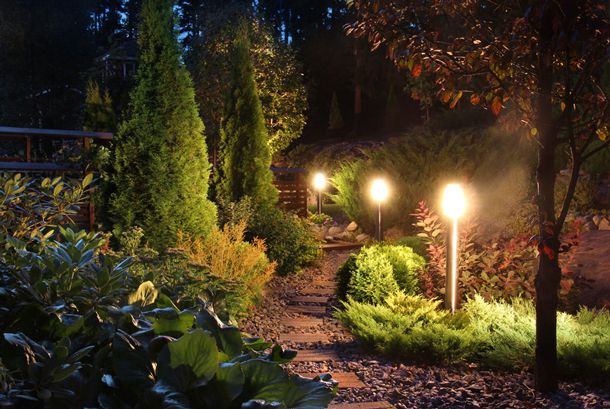 We are happy to answer any questions and discuss your upcoming project in person or over the phone with you today. 

ABN: 90 155 484 594
Unit 4/5 Ponderosa Pde,
Warriewood NSW 2102
CALL US NOW
0410 229 139