Electrical Defect Notices
We need electricity to power our modern life. But when the power isn't working correctly, it can pose a deadly risk to our businesses, homes and lives. If a property owner's electrical connections pose a hazard to the public, they'll be issued with an electrical defect notice. All connections to energy company networks in Australia should adhere to the relevant safety standards, including:
Ausgrid's electrical supply network standards
Electricity (Consumer Safety) Regulation 2006
NSW Government Electricity Supply Act 1995
The power inspection authorities will issue an electrical defect notice to a property owner when their connection doesn't comply with the national or community electrical safety standards. In the notice, they'll detail all the defects they found after performing their routine or requested inspection on your property. The safest remedy is to contact a licensed electrical services provider to resolve your electrical system's defect.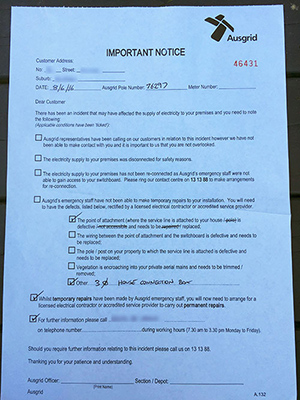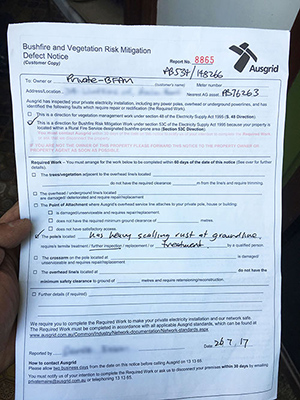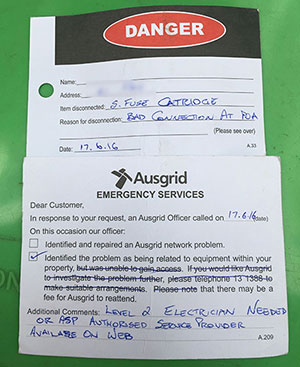 Need help connecting a power pole?
Our friendly staff are waiting to help you.
Call us today for an free no obligation quote. 



Level 2 Accredited Service Providers
We are Ausgrid and Endeavour Energy Level 2 Accredited Service Providers (ASP's) and are fully licensed to work on the Ausgrid and Endeavour Energy networks.
What our clients are saying
Nick Paton Plateau Electrical Services
"We use Payless Power Poles to install gal steel and timber private power poles on our clients properties. Being Level 2 Electricians they also complete our Level 2 Electrical works. They are reliable, on time and well priced."
We are happy to answer any questions and discuss your upcoming project in person or over the phone with you today. 

ABN: 90 155 484 594
Unit 4/5 Ponderosa Pde,
Warriewood NSW 2102
CALL US NOW
0410 229 139