Electrical defect notices

A defect card or notice can be issued by the supply authority under many different circumstances, routine inspections are carried out by supply authority representatives to ensure private power lines and poles are in good working order and not in danger of failing causing damage, injury or loss of power to other electricity customers.
If called upon to investigate a loss of power or any other situation the supply authority is required by law to issue defect notices for noncompliance or even completely disconnect power in dangerous situations.
In most cases a defect is issued for electrical components that have aged and or are failing and in danger of affecting the network or becoming dangerous, you will generally be given 30 days to repair a defect until a follow up notice is given again, failure to act upon a defect notice could result in your electricity supply being disconnected for safety reasons.
Other defects can be issued after recent works have been completed and are inspected by supply authority representatives, every time level 2 electrical works is completed a notification of service work form must be lodged, following the lodgement of this form the works performed are inspected and if any deviations from the rules are found a defect is issued to the contractor who performed the works along with the required repairs.
Most defects can be cleared / repaired by a level 2 authorised service provider, L2ASP's are licensed and trained to work on the electricity network from the point at which your private cable attaches to the network pole or pillar on the street and all the way down to the point at which the electricity enters your home and beyond, including any poles, struts, pillars that the cable traversers along the way.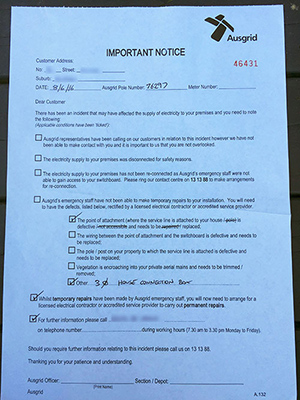 Common defects include:
Private pole replacement: issued for a rotten timber or corroded steel private pole in danger of falling.
Low overheads cables: Issued when the cables that run to your home are below regulation height.
Dangerous parts inside switchboard: Issued when your switchboard is no longer in safe condition
Missing or damaged equipment: Issued when your installation does not have the required network protective equipment.
Point of attachment: Issued when your point of attachment requires repairs or renewal or when it is not accessible.
BUSHFIRE MITIGATION DEFECT
In bush fire prone areas Ausgrid and other supply authority representatives will perform more regular and thorough inspections of private poles and electrical cables both overhead and underground, any installations that are deemed unsafe or more likely to cause fire are issued with a bushfire and vegetation risk mitigation defect.
These defects are more often issued for private poles in substandard condition, exposed conductors or vegetation in contact with overhead power lines. It is the customers responsibility to ensure that the regulation 600MM clearance around private power lines is maintained. Any tree trimming works around power lines must be performed by appropriately trained persons only, accidental contact with overhead power lines can cause injury or death.