Electrical Defect Notices
A defect card or notice can be issued by the supply authority under many different circumstances, routine inspections are carried out by supply authority representatives to ensure private power lines and poles are in good working order and not in danger of failing causing damage, injury or loss of power to other electricity customers.
If called upon to investigate a loss of power or any other situation the supply authority is required by law to issue defect notices for noncompliance or even completely disconnect power in dangerous situations.
In most cases a defect is issued for electrical components that have aged and or are failing and in danger of affecting the network or becoming dangerous, you will generally be given 30 days to repair a defect until a follow up notice is given again, failure to act upon a defect notice could result in your electricity supply being disconnected for safety reasons.
Other defects can be issued after recent works have been completed and are inspected by supply authority representatives, every time level 2 electrical works is completed a notification of service work form must be lodged, following the lodgement of this form the works performed are inspected and if any deviations from the rules are found a defect is issued to the contractor who performed the works along with the required repairs.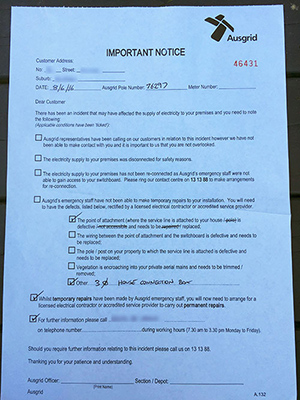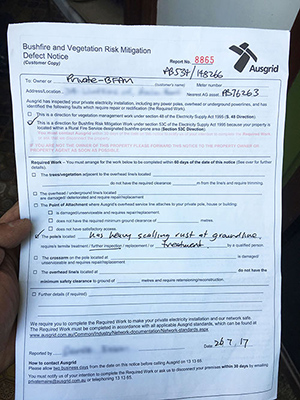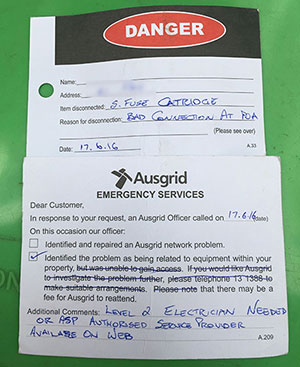 Need help connecting a power pole?
Our friendly staff are waiting to help you.
Call us today for an free no obligation quote. 



Level 2 Accredited Service Providers
We are Ausgrid and Endeavour Energy Level 2 Accredited Service Providers (ASP's) and are fully licensed to work on the Ausgrid and Endeavour Energy networks.
What our clients are saying
Nick Paton Plateau Electrical Services
"We use Payless Power Poles to install gal steel and timber private power poles on our clients properties. Being Level 2 Electricians they also complete our Level 2 Electrical works. They are reliable, on time and well priced."
We are happy to answer any questions and discuss your upcoming project in person or over the phone with you today. 

ABN: 90 155 484 594
Church Point, Northern Beaches,
Sydney, NSW 2105
CALL US NOW
0410 229 139