Elevated Work Platform Services
Our 29 foot/10.9 metre Elevated Work Platform or Cherry Picker allows us to access hard to reach places for all types of electrical and non electrical works on the northern beaches. We specialize in servicing and installing aerial power supplies, private poles and underground overhead services (UGOH) to residential homes in and around the Northern Beaches of Sydney. This is known as Level 2 electrical work and having an EWP truck allows us to take on some of the more difficult to access jobs.
Among other things our EWP allows us to undertake tree trimming around your electrical service mains cables. These are the cables that most often run from the front of your roof to the power pole in the street. It is very important to keep adequate separation from these incoming aerial electrical cables and any trees or foliage.
We are called to a great deal of power outages due to trees coming into contact with these wires during storms or high winds and even more commonly damage due to overgrown unchecked limbs and branches.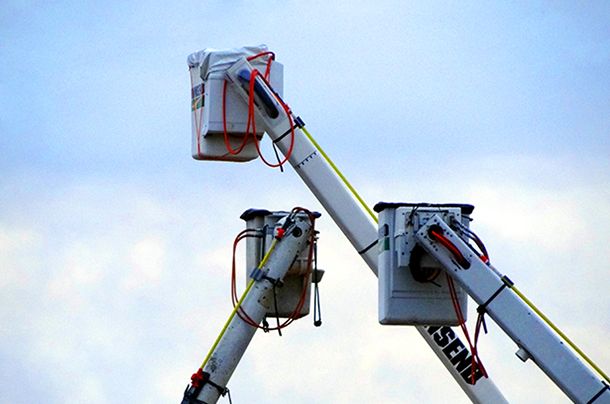 Pruning and trimming trees, branches and foliage around these lines is very important to maintain the safe and uninterrupted supply of electricity to your home but it can be extremely dangerous and should never be undertaken unless you have the appropriate training and authorisation.
We can access car park and outdoor area lighting up to 11 metres in height without the use of a ladder and the risks associated with them.
Our non electrical list of Elevated Work Platform or Cherry Picker services is limitless with as many options for high access work as you can imagine including cleaning signs and windows above garden beds or car parks. We are happy to help in any way we can, so call us on 0410 229 139.