Switchboard Upgrades and Relocations
Having a new switchboard installed monitors old wiring in your home
The switchboard is the heart of your home's electrical system. It controls the energy coming from the main power supply, directing the distribution of that energy to the electrical equipment in your home. The role of the switchboard is practical, but its main job is also keeping your home safe. Modern electrical boards have fail-safe switches that cut the power supply when the system detects danger. They make your electrical usage more efficient, too.
Switchboards have been in Australian homes for a long time. Older switchboards, though, aren't equipped to handle the electrical demands of modern life. Older switchboards can pose a risk to the health and safety of your family, too.
If it's time to upgrade your switchboard, the Everest Electrical team can help. Get in touch with our Sydney team for a free quote on the cost of upgrading or relocating your switchboard.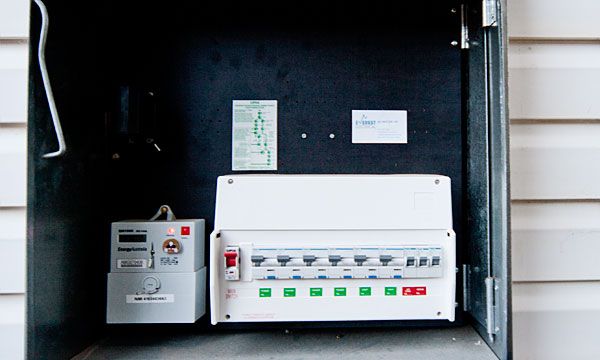 When Is the Right Time to Upgrade Your Switchboard?
Our Northern Beaches electrical team can help you modernise the electrical system in your home. Anytime is a good time to make your home safer and prepare for future electrical demands. These are some of the most common circumstances that lead customers to contact us about upgrading or relocating their switchboards:
During a renovation. If you are adding more electrical points, lights, or appliances during your renovation, then an upgrade to your switchboard is often a good idea. In some cases, it may even be a requirement to bring your property back up to Australian Standards.
When relocating your switchboard. If you'd like to move your switchboard, it's the perfect time to upgrade it, too. This will give you an opportunity to upgrade the wiring and ensure the switchboard is in a convenient location with room to expand it in the future, too.
After upgrading appliances. Newer appliances could put more demand on your electrical system. There is a good chance you have more appliances in your home than you did a decade ago, too, meaning the power supply may be able to handle modern demands.
When creating a smart home. Smart homes can be a great way to automate systems and reduce your overall energy usage. But older switchboards may not have the capability of running the devices required to outfit your home.
If there are no more switches on your board. If you've run out of switches, then new equipment may have to share a switch with other appliances. This isn't efficient and could end up causing your power supply to become unreliable.
Signs You Need to Upgrade Your Switchboard Right Away
Frequent power outages or flickering lights.
Your current switchboard is more than 20 years old.
Still using asbestos panels or old wiring.
These are signs that your switchboard could pose a safety risk to your home. Older boards don't have the automatic shut-offs incorporated in new boards, and asbestos panels can pose a serious health risk as they contain carcinogenic substances.
If any of these signs apply to your current switchboard, get in touch with the Everest Electrical team to get your free quote on an upgrade right away.
The Benefits of Upgrading Your Switchboard
New switchboards have a Residual Current Device (RCD). This is a device that monitors the electrical going into your home, and will instantly cut off the electrical supply if it detects an issue. This can help prevent electrocution, making it a life-saving feature in modern electrical systems.
Modern switchboards actively monitor the electrical use in your home, making sure it's as efficient as possible. This can lower your overall electrical use, which is good for the environment as well as your monthly energy bill.
Upgrading your switchboard now can help you prepare for the future. You'll have the system you need for a future home movie theatre, new smart home appliances, or an upgraded air conditioning system. Plus, a new switchboard can add value to your home for future buyers.
What's the Cost of Upgrading or Relocating a Switchboard?
If you have an asbestos panel
The number of circuits on your board
How much re-wiring our team needs to do
The type of electrical system current in your home
Our team can come to your property and provide you with a free quote on the cost. That way you'll know exactly what to budget for your switchboard upgrade. Most homeowners find the upgrade or relocation to be worth the peace of mind it brings about their home's electrical supply. After all, a new switchboard is much less expensive than a house fire. On average, you can expect an upgrade to cost you between $750 and $1500.
Need help connecting a power pole?
Our friendly staff are waiting to help you.
Call us today for an free no obligation quote. 
Why Choose Everest Electrical For Your Switchboard Upgrade
Not only is it incredibly dangerous to try to upgrade your switchboard yourself, but it's also illegal. You'll need to hire a qualified, licensed electrician to carry out the work for you. We work with both homeowners and builders on the installation, relocation, and upgrade of switchboards. We are a Level 2 Electrical Service Provider, too. That means we can handle all aspects of your switchboard upgrade or relocation, including the disconnection and reconnection of the mains power. We can test the board when it's installed and provide you with a certificate of safety when the work is complete.
Not only is our team qualified for the job, we:
Offer a lifetime warranty on our workmanship
Have over 20 years of experience working in the Sydney area
Deliver the highest level of customer service and satisfaction on every project we do
Get in touch with our team today to talk about upgrading your home's switchboard. We'll offer you unbiased advice on the best way to upgrade your system while keeping your budget in mind, and give you a free quote before we start the work.
As a preferred electrical contractor in the Sydney area, you'll know that your home's electrical supply is in good hands.



Level 2 Accredited Service Providers
We are Ausgrid and Endeavour Energy Level 2 Accredited Service Providers (ASP's) and are fully licensed to work on the Ausgrid and Endeavour Energy networks.
What our clients are saying
Nick Paton Plateau Electrical Services
"We use Payless Power Poles to install gal steel and timber private power poles on our clients properties. Being Level 2 Electricians they also complete our Level 2 Electrical works. They are reliable, on time and well priced."
We are happy to answer any questions and discuss your upcoming project in person or over the phone with you today. 

ABN: 90 155 484 594
Unit 4/5 Ponderosa Pde,
Warriewood NSW 2102
CALL US NOW
0410 229 139