Enjoying Summer Outdoors With Safe Pool and Outdoor Lighting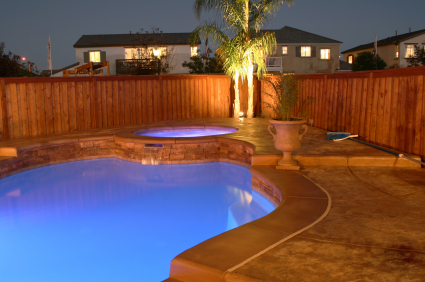 Nothing beats having a barbecue party out on your outdoor deck with friends and family members while the kids have a blast on the lawn or in the swimming pool. However, unbeknownst to many, certain pool and outdoor lighting solutions found in homes can trigger garden fires especially during bushfire season.
Faulty electrical wiring is among the leading causes of household fires and that is why many homeowners seek the help of electrical professionals to pinpoint and rectify such problems. However, faulty wiring can affect the safety of your family beyond the indoor setting.
Lighting your home's exterior serves a utilitarian and aesthetic function. A well-placed outdoor lighting system can enhance your home's beauty by highlighting key areas in your home's architecture. Outdoor lighting is particularly useful if you and your family love to spend time in the garden or by the pool. Additionally, it can help prevent unnecessary falls by illuminating dark areas. It can also help deter burglars from entering your property.
However, the outdoors is not completely immune from faulty wiring and the possible presence of defective garden wires. Add faulty wiring to dry weather, dry leaves and high temperatures and you have got yourself the perfect recipe for a garden fire that can easily get out of hand and trigger brushfire.
Just like in many household fires, faulty wiring can come as a result of sub-par work by an electrician or be caused by the simple wear and tear of the fixtures. Sometimes, the quality of the materials used in the installation of electrical fixtures, whether indoors or outdoors (particularly counterfeit goods) can compromise your home's electrical wiring system.
How does faulty electrical wiring cause fires?
Electricity is designed to travel a specific path. When the current veers from this path, a condition known as an arc fault occurs. Arc faults can generate intense heat that can trigger fires. And unlike other types of fires, fires caused by faulty wiring can be more difficult to extinguish because of the possibility of electrocution when put out with water.
From the get-go, it is essential to have a licensed electrician to perform work in your home, be it indoors or outdoors. This will ensure that the workmanship is up to standard. Also, some homeowners scrimp on their lighting fixtures, not knowing that a little savings can be a steep price to pay for their family's wellbeing and safety. And just as you should have your electrician perform regular electrical inspections inside your home, you should also have your electrician include your outdoor setup to check the health and quality of your property's wirings and receptacles. As a rule of thumb, many experts advise homeowners to have their homes checked every four years.
Pool and outdoor lighting can enhance how you and your family experience and enjoy the outdoors, but your loved ones' safety should never be compromised. Just as you would take measures to prevent fires inside your household, you should also look into ensuring that your exterior lighting and wiring systems are in good shape.