Enjoy your pool at night with modern pool lighting
There are many types of pool lighting on the market today. There are lights that change colour gradually from deep blue's to fiery oranges, all the way to romantic purples. The days of the simple old style halogen globe with a submergible plastic cover are coming to a close and the modern LED lights are making their entrance.
Some modern pool lighting systems even offer remote control operation. Imagine changing the colour of your pool or spa at the touch of a button without getting out of the pool. These remote units are easily adaptable to suit bubble machines or if required, filter systems.
Aside from looking great at night, an illuminated pool makes enjoying a night time swim safer.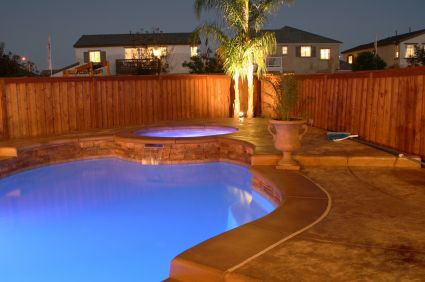 In Australia we have many types of creatures that also enjoy a swim and unfortunately a few of them can be dangerous including the infamous funnel web spider. The funnel web spider sits at the bottom of your pool encased in an air bubble that holds on to the tiny hairs on its skin.  Many an Aussie has been admitted to hospital in the late hours of the evening having been bitten by one of these little 8 legged critters. If properly illuminated, all the little harmless sticks and leaves can be identified and you will be able to enjoy cooling down after that hot Australian summer day.