Our home bathrooms have come a long way. From the purely functional and almost sterile feel of older homes, modern bathrooms are now a hub of relaxation where we can wash away the stress of the day. To maximise the sensation of comfort and relaxation, bring as much light into the bathroom as possible.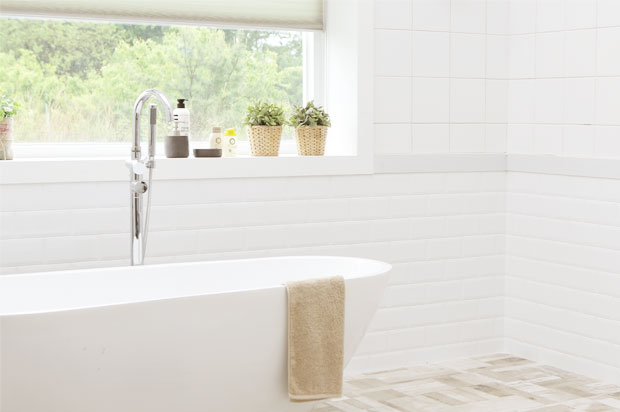 Let there be light
Bringing light into a bathroom can be tricky, and usually comes down to the right design. A few small changes to décor, however, can also help by adding the illusion of more light. Irrespective of the shape or size of your bathroom, the tips below should help brighten up your bathroom.
Style and positioning of windows. The most common method of bringing natural light into a bathroom. Windows are available in a variety of styles that add brightness while still offering privacy. To add a modern touch, Switchable Privacy Glass can swap between translucent privacy and clear glass at the flick of a switch.
Lighting schemes. When artificially lighting the main areas of a bathroom, it is best to replicate a natural light source. Providing a mixture of bright lighting for functionality, and warm lighting to set the mood, will help to achieve balance.
Making use of feature lighting. By installing feature lighting within feature recesses, mirrors and showers, the functionality of these areas improve. With modern LED lights these feature lights can be altered to almost any colour, adding a unique touch to your bathroom.
Have an open-air ensuite. By keeping the number of walls to a minimum, homeowners can dramatically increase the amount of light that enters a room. By removing these barriers, a large open-air shower can add a sense of majesty to a bathroom.
Installing a skylight. Windows are all well and good if the bathroom is on the home's perimeter, but what happens when they are located in the middle of a home? A simple skylight can be used to bring natural light to the most remote bathrooms.
Using mirrors. For smaller bathrooms and ensuites where space is restricted, an illusion of brightness can be achieved with mirrors. Mirrors, by reflecting all light sources, can improve light levels inside a bathroom.
Colour selections. Much like mirrors, providing colours that naturally reflect light will have a positive effect on any bathroom. For best results, white is the colour of choice for maximum light reflection. White finishes can be used on painted walls, laminate doors, and drawers and tiling for the greatest effect.
Automated courtesy lights. There are times when lighting is needed that is unobtrusive, like when we need the bathroom in the middle of the night. By installing under-cabinet lighting paired with a light and motion sensor, we can easily bring a useable amount of light to our bathrooms. An automated system such as this means that other people in the home aren't disturbed by bright lights in the middle of the night, and no more fumbling around to find the light switch.
Furniture selection. To brighten up a room, and to add to the open-air feel, furniture selection is vital. By selecting vanities that have open shelving, more light can flow through the room.
Add some plant life. By introducing plants which thrive in the shade, or even plants that survive without soil, a sense of vibrancy can be added to even the smallest of bathrooms.
With many lighting and brightening options available to homeowners, it may be overwhelming to understand what works best for each room. To find out more about brightening up your bathroom, get in touch with our friendly team at Everest Electrical today on 0410 229 139.