The IFA Trade Show was held in Berlin this year, and as usual, this annual exhibition of global innovations in home appliances did not disappoint. Among some of the most impressive inventions to be displayed this year was the latest range of domestic washers and dryers.
As some of the most used appliances in our home, any time washing machines and dryers are updated with some fancy new feature, you can almost guarantee there's a benefit in it for you. Whether you're planning on updating your home or just doing a bit of window shopping into the latest and greatest technologies, these models are sure to impress.
Bosch Series 8
Washing your clothes in cold water might be more energy efficient, but sometimes it just doesn't get the job done. Introducing the Bosch Series 8 washer which promises to kill 99.99 percent of bacteria during a cold wash, achieving results in as low as 20 degrees.
This innovative feature is all thanks to their ActiveOxygen technology, and although Bosch is tight-lipped on how exactly this worked, the results were all real. In addition, these machines have an auto-dosing feature that dispenses just the right amount of detergent so you get a perfect wash every time.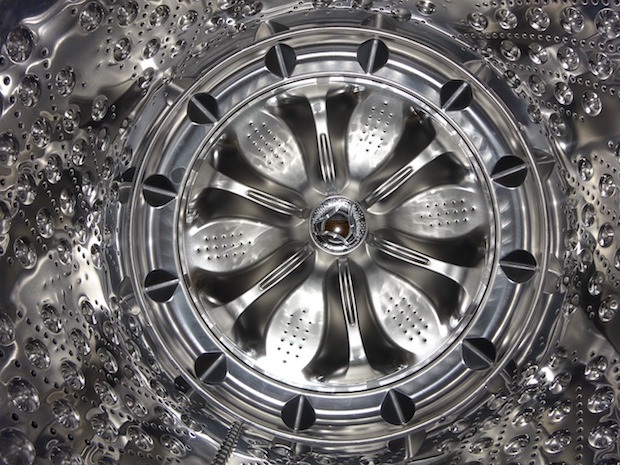 AEG 9000 Series – Electrolux
Another impressive display in the world of washing machines came from Electrolux with its AEG 9000 series. Among the extensive range of futuristic appliances that Electrolux presented, this revolutionary washing machine not only cleans your clothes, but softens and filters the water used, so that they can be cared for at the highest level.
The AEG 9000 Series Washing Machine also enlists some smart tech, with a handy app that the user can navigate to help them clean their delicate items with care. The app will choose the best cycle for your items and make individual tweaks depending on the specifics.
Haier Duo Dry
If you're looking to get through more washing without doing additional loads, the Haier Duo Dry is the appliance for your home. Haier has listened to the needs of those with extra capacity requirements and invented a machine that can wash 12 kg of clothes in one go, using both top and bottom washers.
This machine has WiFi connectivity and a TFT touchscreen, making it feel like something straight out of the Jetsons. Once you're done with your washing, simply transfer it to the bottom and make use of the inbuilt dryer as well.
Hoover Washing Machine
Although still in its prototype phase and not due for release until at least 2017, Hoover was proud to display its latest innovation in clothes washing this year at IFA. The machine features state of the art textile expert detector (TED) technology, which is just as fancy as it sounds.
Using this TED technology involves a handheld device which you scan over your clothes, allowing the machine to then tell you how best to clean them. The Hoover Washing Machine will also come with a mobile app that links to your schedule and other data, so if you recently had a meal at a restaurant with a toddler it will recommend a heavy duty wash to get the stains out.
Modern Electronics For Your North Shore or Northern Beaches Home
If you're in Sydney's North, and in the midst of home renovations or planning to update your abode soon, the team at Everest Electrical is here to help. With expert advice and services available for everything from additions and renovations to TV wall mounting, and new construction works, we're on hand to ensure your home electronics are working their very best. Contact the team on 0410 229 139 for a friendly discussion about how we can assist you.