Elevated Work Platforms for Working at Heights
When it comes to performing electrical work around the house and garden, safety must always be the first priority. Electrocutions and house fires are often the result of poor electrical work or unsafe work practises. These problems can usually be avoided by hiring the right professionals for the job.
Working at heights and difficult to reach places meanwhile adds another element of danger, especially when working near power lines and overhead cabling. That's why when you need work done in high and hard to reach places on the Northern Beaches, using an elevated work platform or cherry picker by Everest Electrical is the best solution.
Dealing With Surrounding Trees and Foliage
Because we are based in Sydney's Northern Beaches and work on the North Shore so much, we know that trees and branches can cause havoc with overhead power lines in the event of strong winds or storms. Cutting or trimming branches around your property is one of the best ways of avoiding power disruptions and damage during storms, but many local residents don't know that clearing these from nearby power lines overhanging their property is their responsibility.
Getting this done however is no easy task. Doing so without the proper training or authorisation can be extremely dangerous, with most home owners lacking the right equipment and skill to safely remove these.
Attempting to reach areas around power lines by using ladders or other unsuitable equipment can lead to severe electrocution, injury or death. Not to mention the risk of falls from attempting to cut down tree branches from heights. It's always best to reach out to professionals with the expertise and equipment to get the job done safely.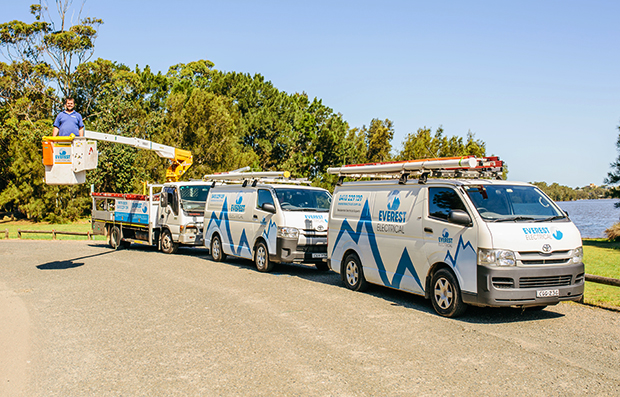 Everest Electrical Overhead Services
With elevated work platforms and cherry pickers capable of reaching heights of up to 11 meters, Everest Electrical has both the equipment and experience to safely trim trees and branches around your home. Regular cutting and trimming of trees and foliage can help to reduce the risk of these falling onto nearby power lines during storms or windy days, and avoid any unexpected disruptions to your home's power supply.
Other electrical services performed with the use of our elevated work platforms include servicing, repairing and maintaining private power poles, and assorted jobs in elevated car parks and outdoor lighting areas. Our status as Level 2 Electrician Service Providers in the Northern Suburbs and North Shore makes us the trusted choice for local residents when it comes to working at heights and overhead services.
Other Non-Electrical Work
Our new cherry picker also gives our team the flexibility to safely reach heights for maintenance, repairs as well as other services. The use of elevated work platforms opens up a variety of other jobs that can be safely performed without the use of ladders or climbing equipment.
Other elevated work platform or cherry picker services offered by Everest Electrical include sign and window cleaning, filming, and photography.
Trusted Overhead Service Providers
As Accredited Level 2 Electricians, at Everest Electrical we have the expertise and equipment to undertake jobs on the Electricity Distribution Network including solar metering, power pole installation, underground and overhead services and more. Our experience working in Sydney's Northern Suburbs and North Shore is why residents reach out to us for all their electrical needs in the local area.
Our elevated work platforms and cherry pickers mean we can safely perform jobs in those hard to reach places, like tree trimming and essential maintenance around power lines. If you have a job that requires an elevated work platform, or need any other type of electrical work done, give our friendly team at Everest Electrical a call today on 0410 229 139.