Ever wondered how much power you can pack into a tiny house? Tesla is hitting the road to help answer that question. To show off their ability to harness the sun's power, Tesla has launched its "Tiny House" tour of Australia to bring their latest renewable energy systems to Adelaide, Melbourne, Sydney and Brisbane. Tesla's tiny house is a shining example of ecologically friendly living.
The home, which is being towed throughout the country by a Tesla Model X, is built from timber which is free from chemicals and locally sourced to further push an environmentally sustainable building model. With Australia getting large amounts of sunshine throughout the year, it will provide people with great working examples of alternative ways to power their homes.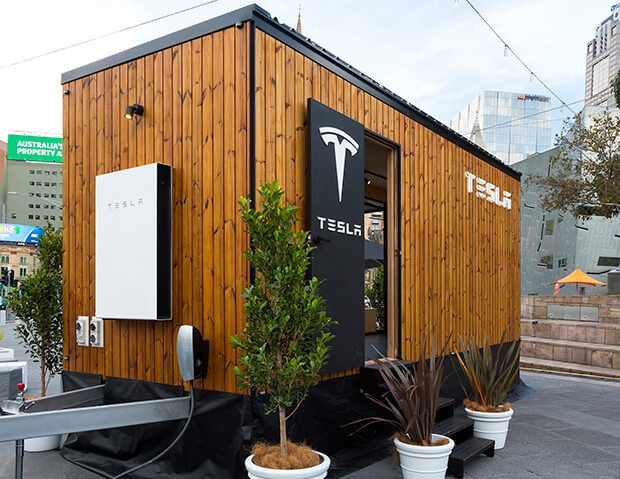 Image courtesy of Tesla.
Getting the most from the Australian sun
The home is completely powered by renewable energy, and has been designed to showcase two of Tesla's products – Tesla Solar Panels, for gathering energy, and the Tesla Powerwall. Both the Solar Panels and Powerwall have proven themselves to be capable on their own, and have been engineered to work harmoniously together ensuring that owners get the best energy transfer possible. A 2kW six panel system is mounted to the roof, and is hardly noticeable thanks to Tesla's slick design which incorporates a front skirt. The lack of visible mounting hardware seen in other panel designs works towards a cleaner look. While many of today's homes are fitted with solar panels to generate power during the day, a large number of them will need to draw from the grid once the sun goes down. This is where Tesla's Powerwall comes into play.
Powerwall – Your new home power source
Powerwall acts as a storage battery for the home. Energy that is collected by the solar panels throughout the day, while most homes are empty, is stored away to be used to power the home at night time. It's seamless integration with the Tesla Solar Panels is proving to be more than capable of supporting the Tesla Tiny House with its energy needs.
The system is compact, allowing it to be fitted to most surfaces of a home, and is versatile enough to be installed either indoors or out. Powerwall requires little maintenance and can provide home owners with many years of sustainable energy. As your needs grow, so too can a Powerwall system with its ability to be stacked making it future proof. An additional nine Powerwall units can be linked together, and, with enough solar panels, can provide electricity to some of the most demanding homes.
Tesla's energy storage system is also easy to monitor, with an app on hand that lets you know exactly how much power is left based on your current usage. With all this power and control at your fingertips, and the potential to drastically reduce your existing energy bills, it makes sense for Tesla to provide home owners with an opportunity to learn about integrating these new technologies into their homes.
Sydney home owners who would like to find out how they can reduce their reliance on the existing electrical grid can see the Tesla Tiny House at the Randwick Community Fair on the 3rd of September, the Lane Cove Shopping Precinct on the 8th of October, and at the Sydney Showgrounds from October 27 to 29. Visitors will have the opportunity to not only see the house in action, but to also learn what benefits a Tesla Solar Panel and Powerwall system can have on their existing home.
If you would like to learn more about making your home's use of energy more efficient, contact our friendly team at Everest Electrical today on 0410 229 139.