Reduce Your Electricity Bills This Winter
Australian households are feeling the heat of rising energy costs. As the cold of winter starts to bite, families are concerned about how to stay warm while keeping energy bills to a minimum.
The Master Electricians Association (MEA) says families are right to be concerned with energy bills soaring over the winter months. The current estimates are that 10-50% of the energy used each year in Australian homes is used for heating.
Fortunately there are many ways to reduce energy usage while still being comfortably warm in winter.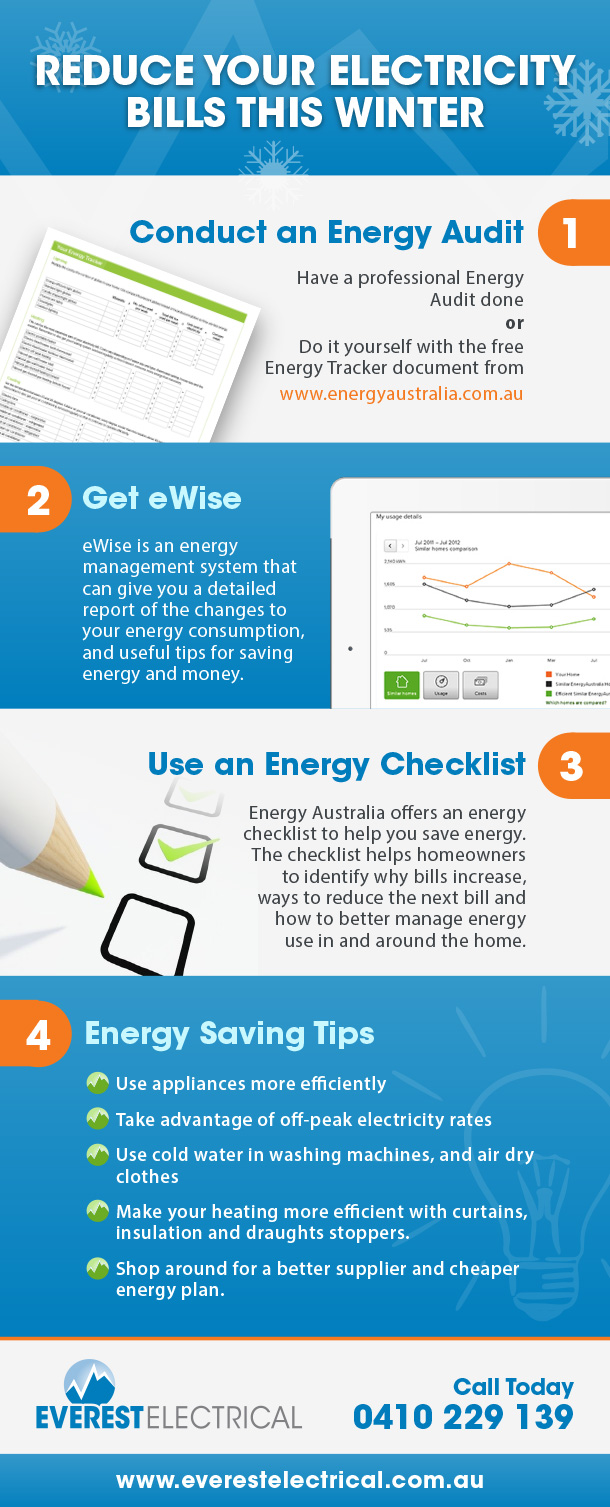 1. Conduct an Energy Audit
Many families are unaware of their energy use or how to reduce it. There are organisations that will perform an energy audit for you, but you can also do it yourself.
A home energy audit, using the energy tracker document on the Energy Australia website, will give you an insight into how the energy is being used by your household. It requires you to keep an energy diary of hours used for each appliance.
The energy tracker provides tables to allow you to easily calculate the energy use for an appliance by multiplying the electricity the appliance consumes by the number of hours of use. When the use is multiplied by the unit cost of your electricity, you can determine the cost per week of using each appliance.
Developing an understanding of your energy bills based on the usage patterns of individual appliances means you are able to easily see any wastage and cost savings that can be made.
2. Get eWise
eWise is an energy management system that can drive informed energy choices that save you money.
When you look at an energy bill, it is difficult to understand what steps you could take to conserve energy or save money on bills in future. With eWise you get a detailed report of the changes to your energy consumption and useful tips for saving energy and money.
3. Use an Energy Checklist
Energy Australia offers an energy checklist to help you save energy. The checklist helps homeowners to identify why bills increase, ways to reduce the next bill and how to better manage energy use in and around the home.
4. Energy Saving Tips
Once you have an idea about your energy use you can implement some strategies to save energy and reduce your overall energy bills.
– Determine ways to use appliances more efficiently
– Take advantage of off-peak electricity rates wherever possible, such as putting clothes on to wash before going to bed.
– Use cold water in washing machines, and air dry clothes where possible instead of using a clothes drier.
– Analyse simple ways to make your home heating more efficient, such as window dressings designed to keep heat in, insulation and eliminating draughts under and around doorways.
– Shop around for a better supplier and cheaper energy plan.
Shop Around for the Best Energy Prices
Once you had to go with the energy supplier approved for your local area. You didn't have freedom of choice and were not able to make price based decisions.
Fortunately the situation has changed and now across much of Australia, including on Sydney's Northern Beaches, you can choose your gas or electricity supplier. Choice is one thing, but with the range of different suppliers and rates available, making the right choice is not always easy.
There are free services available online, such as Switchwise and Electricity Wizard, which make the difficult task of choosing the best supplier simpler. Both of these services are free to use. They allow you to compare electricity and gas suppliers then help you to switch to a better supplier and energy plan.
Rising Electricity Prices
This winter you don't need to fall victim to skyrocketing energy prices. In December 2012, the Age newspaper reported that NSW households were facing a new round of power price increases, despite the Prime Minister having announced plans to shave $250 off annual home electricity bills. In the same month the Sydney Morning Herald reported that electricity was being disconnected from 23 000 NSW households who failed to pay their bills.
In January this year the Sydney Morning Herald reported that electricity price rises of around 20% from the same time in 2012 could lead to even more household electricity disconnections. The Australian newspaper predicted that by mid-year, household energy bills would have risen 40% despite falling electricity consumption.
However, these simple suggestions will help you to reduce your electricity bills this winter. Remember, start by gaining an understanding of your energy use and ensuring your home heating is efficient. Once you understand your energy needs, you can reduce your use and shop around for the best supplier and price available.