We all know that our roofs protect us from the elements, but what if they could do more? What if they could provide our homes with a clean source of power? Carrying on from their success in re-imagining the electric car, this is precisely what Elon Musk and the team at Tesla are bringing to the Australian market with the Tesla Solar Roof. Being available in a variety of styles, Tesla's latest addition to their eco-friendly stable is bound to come in a style that will suit most home designs.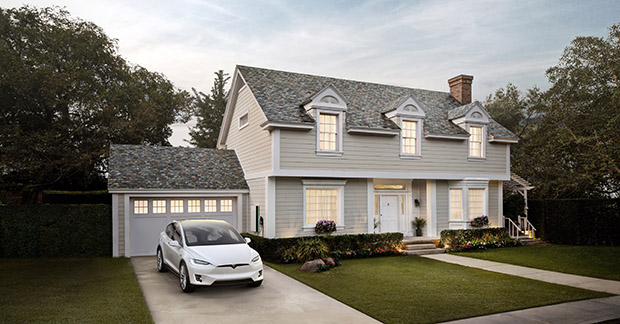 Image courtesy of Tesla.
Innovation for power generation
While we know that the Solar Roof is made to look like a conventional tiled roof, what may not be obvious are the benefits this new roofing material has over existing tiles and shingles. We'll start with the biggest difference – they provide your home with a source of power. By thinking outside the square, the team at Tesla have changed the way we view solar panels, from big and bulky collection panels mounted on the roof into barely noticeable slimline tiles that can channel the power of the sun.
The tiles are made with tempered glass much like a conventional solar panel, which makes them much more durable than a standard roof tile. Being designed with the highest wind, fire, and hail ratings in mind, this innovative form of roof cover can stand up to the elements year after year, as demonstrated by its 30-year warranty. In order to maximise the benefit of Tesla's new system, it has been designed to integrate seamlessly with their Powerwall battery storage system which stores electricity throughout the day when most homes are empty, meaning you can take advantage of your new roof at night time. With benefits like these, what reason could you have for not getting on board?
Stepping into the unknown
While this can be seen as an ambitious move for Tesla, and a step in the right direction for minimising our reliance on fossil fuels, it is still early days for this technology. At the time of writing, we don't currently have pricing for the Australian market. A quick run through Tesla's US calculator shows us that, as with any new tech, it carries a fairly hefty price tag. However, the belief is that over the lifespan of your home the roof will have paid for itself in electrical savings, all while minimising the use of conventional power sources.
Given the infancy of the product, the efficiency of the system isn't quite there when compared to other solar systems on the market. However, this is Tesla we are talking about, and they have in the past proven their ability to provide their products with an upgrade path. We've seen this with their electric cars, which receive firmware updates adding new features and greater efficiency. The major concern at the moment comes from a single question: How will these tiles work with Australian homes? Australian roofs are built differently to their American counterparts, and so we may need to look at alternative construction methods which are likely to add to the total cost of the system.
As it's still early days, with the product not set to launch in Australia until 2018, there is plenty of time for all these questions to be answered. Solar technology is advancing in leaps and bounds, and so by the time the system reaches our shores we may already see refinements to the proposed product. Changes may need to be made to comply with Australian standards, which could make a difference to how efficient these solar roof tiles are. Either way, it is a step in the right direction towards reducing our carbon footprint.
If you are considering using solar in your home on Sydney's North Shore or Northern Beaches, our team of professionals at Everest Electrical are here to discuss the options with you. We welcome your call today on 0410 229 139.