Hundreds of thousands of Australians elect to have private power poles on their property for a variety of reasons. Some power poles are put in place to hold power lines a safe distance away from roads, pathways, and properties, while others may choose to have private power poles purely for aesthetic reasons.
Regardless of what the reason may be, the installation, maintenance, and operation of these power poles are the responsibility of the property owner. While it is always best to hire a professional electrician from Everest Electrical to install and maintain a private pole on your property, it is equally important for property owners to be aware of the latest power pole guidelines and recommendations.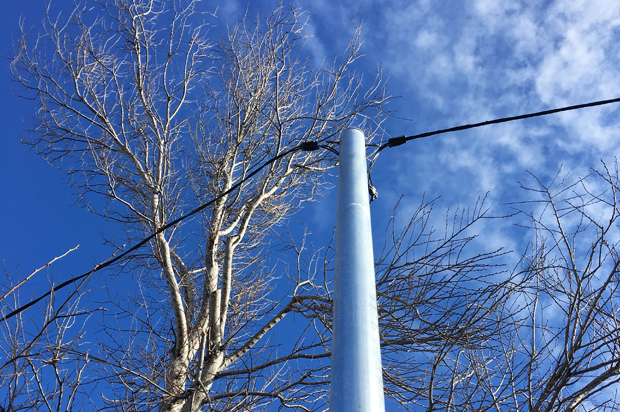 Depth of private power pole installation
All new private power poles must be installed so that the concrete stabilisation finishes a minimum of 300mm below ground level. This is important for two reasons:
It increases the stability of your power pole
It ensures that your pole will not collapse during a power pole inspection
Checking the quality of the pole below the ground is the best way for an inspector to ensure that the power pole has not corroded or decayed and that it does not pose a threat to public safety. Inspectors carrying out a power pole inspection will need to remove surrounding soil or concrete to a depth of at least 200mm.
Timber, steel or titan: which type of private power pole is best?
If you are considering installing a private power pole on your property, or if one is already present on your premises, it is a good idea to understand the pros and cons of each to ensure that it is properly installed and maintained.
Timber power poles
Depending on where timber power poles are located, timber power poles have a lifespan of anywhere from 15 to 25 years. They are available in a variety of sizes, though the most common sizes range between 8 and 11 metres.
Timber power poles offer a more natural look, and they have a longer lifespan than steel. But because of the size and weight of the poles, heavy lifting equipment is necessary for them to be safely installed on a property. They are prone to termite attacks and infestation, and they should not be installed in areas where there is ground water, or moisture is above normal levels (such as coastal areas).
Steel power poles
Steel power poles have a lifespan ranging from 10 to 15 years, and they are usually less expensive to put in place as they do not require any heavy equipment for installation. They are termite proof and, in some instances, can be more attractive than timber power poles.
One drawback is that steel power poles usually reach a maximum height of 7.2 metres. Some cable and electrical companies (such as Telstra) may also have policies preventing them from climbing private steel poles because they may be rusted or corroded below the surface.
Titan power poles
Titan power poles have a lifetime warranty. They are rust, termite, rot and bush fire proof. They can be cut down to suit specific height requirements and cables can be run internally because of the hollow structure, improving safety and security.
The diameter of Titan power poles are larger, with a 160mm diameter at the tip of the pole and a 240mm diameter at the base of the 7.2m pole.
Maintaining your private power pole
After the installation of your power pole, it is critical that it be inspected on a regular basis by the property owner or by a professional Level 2 electrician. Check for:
Stability: Is the power pole upright or does it appear to be leaning? Is it unstable on the ground?
Infestation: Is there a sign of bug or termite infestation?
Surrounding areas: Is your power pole located close to trees or other vegetation?
Need help with your private power pole?
Let the qualified Level 2 Sydney electricians at Everest Electrical help with the installation and maintenance of your steel, timber or titan power pole! We invite you to call us today for expert advice, power pole inspections, and tips on maintenance on 0410 229 139.