Private power poles can be installed on your property as an alternative to your street network power supply. A private power pole is a privately owned electricity source which connects your house to the public power supply by attaching cables from the network pole and running them to a private pole situated on your property. Private power poles assist in removing unsightly cables and help create a safer environment for surrounding trees, pathways, and roads.
Why Install a Private Power Pole?
In some cases, the rules which determine the location for a point of attachment (where the cables attach to your house) dictate that a network pole is unsafe for use. A private pole installation can ensure that the network supply is connected in a safe manner that doesn't impact on surrounding roads, pathways or vegetation.
For others, the choice to install a private power pole may be purely aesthetic. With many old houses receiving renovations, a private power pole can remove the unsightly cables that often ruin the view of your front yard or those that may be in the way of trees and other foliage.
Available in either timber or steel, private power poles must be installed by a qualified electrician and should be regularly maintained and inspected. There are advantages and disadvantages to each style of pole, so careful thought to your individual conditions such as surrounding terrain, weather conditions, and other environmental factors, should be considered.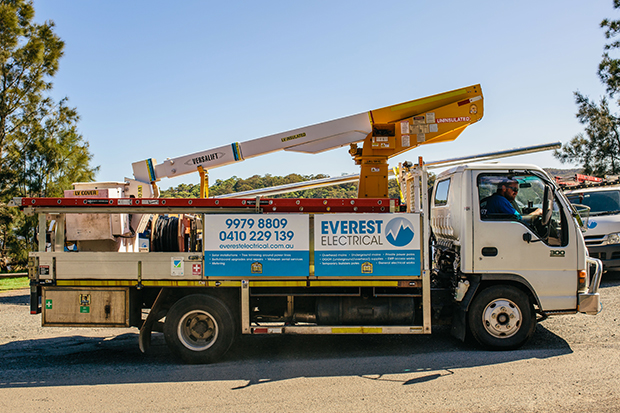 Timber poles
Timber poles have a longer life than steel poles, generally lasting for 30+ years. Often regarded as being better quality than a steel pole, there are a few exceptions where a timber pole may not be ideal. If there is an active termite mound present or close to your property, it's best to avoid a timber pole due to the risk of infestation. If you live in a coastal area or somewhere with a high moisture level, this can cause your timber pole to rot at the base and should also be avoided.
Steel poles
Steel power poles will generally last for 15 years, so while they don't remain as long as timber, they appear to be the most popular choice these days in your average neighbourhood. When installed, it's possible to paint a steel pole so that it matches the rest of your property, which adds to their popularity. Steel poles do have the potential for rust and decay, especially in coastal areas. It's also crucial to receive regular inspections on steel poles due to the ongoing maintenance required.
Maintenance
Once a private power pole has been installed on your property, it's your responsibility to stay on top of maintenance. Keep an eye out for a pole that is leaning, unstable in the ground, infested with termites, or in the way of trees or other foliage.
As an owner, you must ensure that your vegetation is maintained so that it doesn't pose any threat to the power pole, however, there are cases where harsh weather may impact on this. If you suspect any issues with your power line, contact one of the qualified electricians at Everest Electrical to inspect the pole and advise of any maintenance.
If your property is in a bushfire zone, state-owned electricity infrastructure company Ausgrid will inspect the pole regularly to ensure it doesn't pose a fire risk.
Installation
Installation of a private power pole must always be performed by a qualified electrician who is licensed to perform this work. Here at Everest Electrical, we are proud to offer both steel and timber power pole installations. Phone us today on 0410 229 139 for advice on what type of pole will best suit your needs.