Transform your garden at night
A garden at night is a different place but can not be so easily enjoyed. A garden lighting system can transform the feel and look of your garden in the evening, creating a whole new area to use during the later hours of the day & can become an extension of your living or even dining room.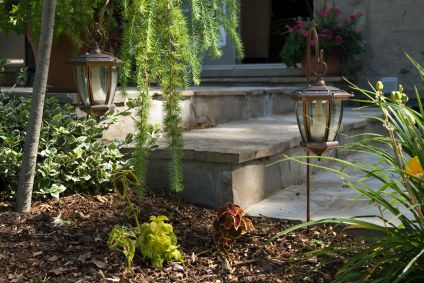 Incandescent and LED garden lighting comes in a wide variety of styles and budget ranges and depending on the size of the area you wish to awaken, they can be very cost effective. Remote units to control garden lighting can also be installed. These remotes can control up to 8 individual devices and can work up to 100 metres away.
Every house on the market that has a garden with outdoor lighting installed is shown under lights when advertised for the simple reason that it looks warm, inviting and appealing to all. Apart from being beautiful and functional a well lit garden offers other benefits too: A feeling of security is given as it discourages trespassing, vandalism & theft. Outdoor areas are full of potential dangers like stairs, drop offs and tripping hazards. The more lights, the safer it is.
The Benefits Of Outdoor Lighting